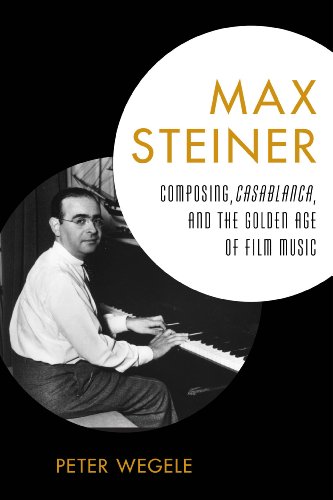 For all those interested in the musical aspect of film, it is heartening to see that studies of film music are a growing area of interest to authors that are, in one way or another, connected to the music business. Peter Wegele is a composer, pianist, and arranger whose new book on Max Steiner marks another major writing on a film composer to be published this year following musicologist Emilio Audissino's estimable book on John Williams. While Audissino's book was derived from a doctoral dissertation and retains its scholarly feel, Wegele's is written with the musical layman in mind and strives to be as accessible as possible. Wegele continues the trend of many other composer-oriented studies by exploring both the life and music of his subject, as he divides the book into three large chapters: an introduction, a biography, and an analysis of one of Steiner's most important scores, Casablanca.
The introduction is clearly intended as a primer on a number of areas directly related to Steiner's career: the transitional period in film history from the silents to sound film, the process of film scoring, and the components of music itself. For those already initiated in these areas, the introduction will be largely superfluous, especially since the topics addressed will be familiar from many other film music studies, topics such as the multiple functions of film music, film-music-specific terms such as click track, leitmotif, and Mickey Mousing, and broad observations on Steiner's musical components of harmony, melody, instrumentation, and so forth. There are, however, illuminating tidbits tucked away in various portions of the chapter that are not to be missed. In the discussion of Steiner's recycling of older material, from both his own and other composers' scores, Wegele relates that
In his sketches for Casablanca, Steiner not only quoted from other films but directly told Friedhofer [his orchestrator] from which film to take which parts, even specifying the exact reels and bars.
Wegele then shows us an excerpt from one of Steiner's sketches for Casablanca (reel 9, part 2, to be exact) in which only a melody is drawn in and underneath it on a blank staff, Steiner writes the bar numbers from which Friedhofer is to copy from Steiner's earlier score to The Life of Emile Zola. As Wegele points out, though, despite this importation of older material, "the music to Casablanca never sounds schematic or like a quickly assembled functional music piece. It plays like a symphonic composition." And this, Wegele argues, "is what made Steiner an outstanding film composer and artist."
The second chapter on Steiner's biography makes it clear that the composer's path to success in Hollywood was by no means an easy one. Born and raised in Vienna, Max showed an aptitude for music from an early age, composing marches for the local military bands at the age of ten, and at age twelve, conducting an operetta at his father Gabor's theater. At fifteen, Steiner wanted to stage his first full-length operetta at Gabor's theater, but in an ironic twist, as Wegele tells us,
his father rejected the idea because he thought the production substandard. Unwilling to take no for an answer, the young Max approached Carl Tuschl, director of the Orpheum Theater in the Josephstadt, making the same proposal. Tuschl, a former stage manager and now Gabor's competitor, was delighted at the idea of promoting the operetta of his rival's son. Max conducted the premiere.
But on more than one occasion in his younger years, the success on which Steiner stood was pulled from under him before long.
Moving to London in 1909, he earned a reputation as a highly skilled musician and worked as a musical director for a number of prestigious theaters. Returning to Vienna in 1911, he took over his father's failing theater business and was imprisoned for a short time when a creditor could not be paid. And even when it seemed that the tide had turned, and he had picked up where he left off in London, the onset of the First World War prompted the British government to refuse employment to German and Austrian immigrants in certain areas of the country. All of Steiner's property was seized and he set sail for New York in 1914, his wife deciding to stay behind until he could establish himself there.
In New York, Steiner sought work at Broadway theaters, but had arrived unaware that, in order to work at such a theater, one needed to be a member of the union, and in order to do this, one had to be an American citizen, something one could only achieve after living in the country for six months. As Wegele writes,
To survive, Steiner found temporary work as a copyist. . . . In addition, he waited regularly on the stairs at Bryan Hall, a rehearsal stage on Sixth Avenue, hoping to find work as a rehearsal pianist for theater groups.
Finally, while conducting a ten-piece orchestra at Reisenweber's Restaurant on Coney Island, Samuel L. "Roxy" Rothafel noticed Steiner's keen musicianship and hired him as musical director at his Riverside movie theater, an auspicious move that gave Steiner experience in arranging music for a forty-piece orchestra to accompany silent films.
After many years of providing arrangements for the silents and acting as musical director for many Broadway musicals, it was in 1929 that his friend Harry Tierney recommended him to the RKO film studio as arranger of a show they were interested in producing for film. So Steiner moved to Hollywood, where he would make his mark in history.
Yet once again, even this breakthrough was threatened less than a year afterward. In September 1930, with a glut of film musicals having flooded movie theaters in the first few years of sound film, public interest dried up, and along with it, a huge number of musicians' jobs in Hollywood. Steiner was initially sent a notice of dismissal, but with a new job lined up in Altantic City as musical director of an operetta by the son of Oscar Hammerstein, the studio reconsidered and offered Steiner the opportunity to replace the head of the music department, "but without a contract and with the right to be dismissed with only one month's notice. Steiner decided to take the risk and canceled his engagement in Atlantic City." Of course, this would be the most important career decision Max would ever make, as he rose in prominence through films like Cimarron, Beau Ideal, Symphony of Six Million, and through his landmark score for King Kong.
The remainder of this biographical chapter is filled with similar kinds of fascinating details of Steiner's rise to movie music stardom, especially in his high-stakes scoring of Gone with the Wind, and his eventual fall from favor with the demise of the studio system and filmmakers' shifting tastes towards using less music, and experimenting with popular styles of music such as rock and jazz, and even music with a more modernist edge. Nevertheless, Steiner's legacy is well recognized in this chapter, as it concludes with a host of quotes from film music greats such as Nino Rota, Hugo Friedhofer, and Jerry Goldsmith.
The real highlight of Wegele's book, however, is the third chapter devoted to Steiner's score for Casablanca. Those trained in music will delight in the wealth of excerpts transcribed from the score, some given in full score, and one cue given in its entirety in piano score at the end of the chapter. But even if one does not read music, Wegele's commentary remains of interest as he trades music theory with anecdotes, historical facts, and stage directions and quotes from Casablanca's script to form an engaging and highly informative read. To draw one example from many,
Max Steiner, with his antipathy to the entire Casablanca project, made extensive use of these musical patterns [i.e., "habits, formulas, and clichés" of film music]. For example, he pulled the beginning of his title music from the film The Lost Patrol (1934), which he had written before. Author Rudy Behlmer recognizes an older connection in this piece of music, noting that "the Morocco milieu set forth in the main-title music was a reorchestration of Steiner's North Africa desert music composer for The Lost Patrol (1934), which in turn is suggestive of Ippolitov-Ivanov's use of a folk tune in his Caucasian Sketches.
For myself, I only wish Wegele had devoted more space to relating his discussion of the musical details directly to the onscreen action since his remarks are always spot on. Even so, there is a great deal to be gleaned from this already densely-packed chapter.
Wegele concludes his book with two appendices, one of which provides a handy list of Steiner's awards, honors, and filmography, and the other briefly comparing Steiner's musical style and values of Steiner with four of classical Hollywood's other premier composers: Erich Wolfgang Korngold, Alfred Newman, Franz Waxman, and Hugo Friedhofer. In one of my favorite quotes from the book, Wegele writes,
Korngold and Steiner seemed to have had a relationship of mutual respect and friendly rivalry. Both were famous for their ready wit and sense of humor, illustrated by an encounter recalled by Korngold's son Ernst. "One day," Ernst recalled of his father, "Steiner said to him, 'Tell me something, Korngold. We've both been at Warner's for ten years now, and in that time your music has gotten progressively worse and worse and mine has been getting better and better. Why do you suppose that is?' And without missing a beat my father answered, 'I tell you vy dat iss, Steiner; dat iss because you are stealing from me and I am stealing from you.'"
Even with its moderately expensive price tag, the book is a gem for film music enthusiasts of any kind.