Black Friday – 15% off single courses, 20% off bundles!
Excludes launch sales. Black Friday Sale ends Dec. 4.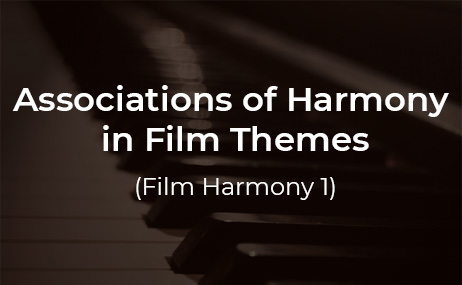 By studying many of the greatest themes to come out of Hollywood, this three-lesson course will teach you the most common harmonic progressions in Hollywood film music and the emotional and musical associations they tend to have. Learn how to use harmony to evoke the perfect emotions in your themes!
Lesson 1 – Diatonic Progressions
Preliminaries

Our Use of Chord Symbols
Theme Harmony – General Principles

Associations and Their Progressions in Major Keys

Innocence – Reverence – Americana
Noble – Heroic Quest – Majestic
Personal Loss – Intense Sadness
Emotionally Touching
Emotionally Painful
Of Great Importance
End of a Phrase

Associations and Their Progressions in Minor Keys

Heroic – Beginning of a Phrase
Beginning of a Phrase
From a Past Time – Pirates
End of a Phrase
Lesson 2 – Chromatic Progressions
Associations and Their Progressions with a Major Tonic

Awe-Inspiring & Fantasy-Based
Heroic
Outer Space
Love, Romance
Rural America – Cowboys – Action Heroes
American-ness (Culture, People, Places, etc.)
The Extraordinary, Wonder, Amazement, Otherworldly
The Thrill of Discovery

Associations and Their Progressions with a Minor Tonic

Suspense, Mystery, Dark Humor
Great Dangers – Mysterious Objects
Evil, Villain, Antagonism
Hope in Adversity
Lesson 3 – Advanced Techniques
Associations of a Tonic-Chord Melody Over a Non-Tonic Chord

Bittersweet Emotion
Jubilant, Overjoyed

Associations of Tonal Chords with Other Scales

Octatonic Scales: Tension, Danger – Comedy
Hexatonic Scales: Strange, Mysterious – Comedy

Associations of Ambiguous Tonics

Incomprehensible, Incredulous
Ambiguity

Surprise Chords for Distinctive Theme-Writing
"Outstanding. Another brilliant course. I am starting to see these progressions everywhere."
"Having real-world examples from masters of melody showcases how powerful simple writing can be!"
"Excellent lessons. I've never seen this direct analysis of progressions as they relate to emotions before. Very helpful."
Join Our Mailing List
Receive an email when a new course or blog post becomes available.
By subscribing, you agree with our Privacy Policy.