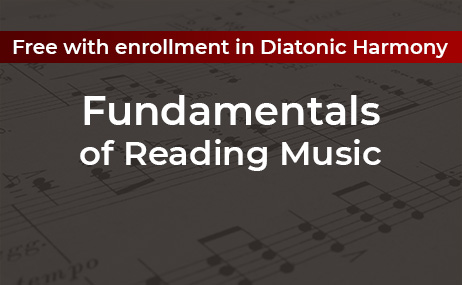 Customize your learning of reading music with this comprehensive course, which covers all essential aspects of musical notation, scales, and chords. With nearly 3 hours of video lessons, 750 flashcards, and 220 quiz questions, and the ability to jump to any page in the course at any time, you can focus on the skills that you want to develop. After watching one or more videos, you can self-drill with the flashcards, then check your progress with the quizzes ending each of the course's 8 large sections. And when you feel you've mastered all the material, you can try the final quiz, which has 80 questions drawn from all sections of the course.
Pitch

The Staff and Clefs
Accidentals and Enharmonic Notes

Rhythm and Meter

Note Values and Rests
Dotted Notes and Ties
Simple, Compound, and Irregular Meter
Tuplets and Pickups
Beams
Rules for Rests

Terms and Symbols

Italian Terms
French Terms, German Terms & Symbols

Scales

Major and Minor
Modes
Pentatonic and Blues
Chromatic and Whole Tone
Octatonic and Hexatonic

Key Signatures

C, G, and F Major
Other Major and Minor Keys

Intervals

Major and Perfect Intervals
Minor, Diminished, Augmented, and Enharmonic Intervals
Simple and Compound Intervals
Inversions
How to Identify an Interval

Triads

Triad Structures and Qualities
Inversions and Spacings
Popular-Music Notation

7th Chords

Chord Structures and Qualities
Inversions
Popular-Music Notation
Join Our Mailing List
Receive an email when a new course or blog post becomes available.
By subscribing, you agree with our Privacy Policy.